Recent Projects and Photos by RJ Ramos
---
PDX TCORE Project
RJ Ramos has performed a multitude of electrical and construction scopes alongside our partners at the Port of Portland and Hoffman Skanska. Some our work includes Electrical Lighting Packages, Tenant Salvage, and Demo Scopes: to name a few.
---
Portland Water Bureau
Our team was challenged with providing anti-corrosion coatings and specialty metal paints to one of the filtration facilities for the Portland Water Bureau.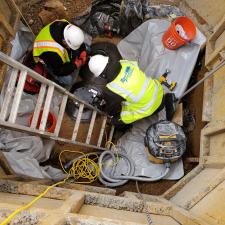 ---
PDX TCORE Roof Waterpoofing
RJ Ramos Performed Caulking and weather sealing on 12-Acres of joints and seams for the PDX TCORE prefab roof. With the successful progress of this project we were awarded the weatherproofing for all of the skylights for the new main terminal roof.
---
Additional Projects
Coming soon!
RJ Ramos Construction and Electrical Co
One Of The Oldest Minority General & Electrical Contractors In The Portland Area