Electrical Services For Commercial Projects In Portland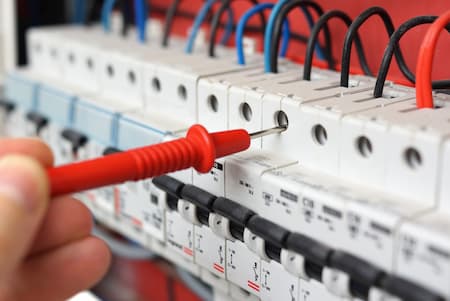 RJ Ramos Construction and Electrical Co proudly extends its expertise in electrical services to cater to the diverse needs of commercial projects in Portland. As a trusted general contractor for Portland, we understand the critical role that impeccable electrical systems play in ensuring the success of commercial endeavors. Our extensive experience and commitment to excellence make us the ideal choice for businesses seeking top-tier electrical solutions.
Focused predominantly on public works projects, we bring our established reputation for quality and reliability to every undertaking. From designing efficient and safe electrical layouts to installation, maintenance, and upgrades, we offer a comprehensive range of electrical services that align with the specific requirements of commercial projects.
At RJ Ramos Construction and Electrical Co, we recognize that every project is unique. Our skilled electricians collaborate closely with clients to develop tailored solutions that enhance energy efficiency, maximize functionality, and adhere to industry standards. Whether it's a new construction or a renovation, we pride ourselves on delivering results that elevate the electrical infrastructure of commercial establishments in Portland and contribute to the city's growth and development.
Complete Electrical Wiring & Installation
At RJ Ramos Construction and Electrical Co, we offer comprehensive electrical wiring and installation services designed to meet the specific needs of your project. Our skilled electricians are experienced in handling the intricacies of electrical systems for various applications, whether it's a commercial or public works project in Portland. From meticulous planning and precise installation to thorough testing, we ensure that your electrical infrastructure is reliable, safe, and up to code. With a commitment to excellence and a track record of successful projects, you can trust us to deliver impeccable wiring and installation solutions that power your vision.
Expert Electricians Serving Portland
RJ Ramos Construction and Electrical Co proudly presents a team of expert electricians dedicated to serving the diverse electrical needs of Portland. With years of experience in the general contracting industry, our electricians possess the knowledge and skills required to handle a wide range of electrical projects as well. From troubleshooting and repairs to new installations and upgrades, we approach each task with precision and professionalism. As a trusted partner in the community, our electricians are committed to delivering top-notch solutions that adhere to safety standards and exceed expectations. You can rely on our expert electricians to keep Portland powered!
Frequently Asked Electrical Services Questions
Staying current with industry advancements is a priority for us. Our electricians undergo regular training to stay informed about the latest electrical technologies, codes, and practices. We actively seek out innovative solutions that enhance project efficiency and deliver state-of-the-art electrical systems that align with modern requirements.
Absolutely. With a focus on public works projects, our experienced electricians have successfully managed electrical systems for various scales of projects. Whether it's infrastructure upgrades, lighting installations, or complex electrical networks, our team is well-equipped to handle the demands of public works projects in Portland while adhering to regulatory standards.
RJ Ramos Construction and Electrical Co
One Of The Oldest Minority General & Electrical Contractors In The Portland Area