Skilled Maywood Park General Contractor And Commercial Construction Services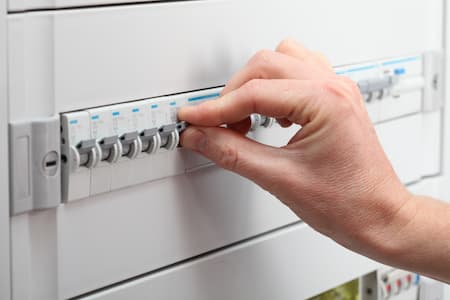 RJ Ramos Construction and Electrical Co is your skilled partner for general contractor and commercial construction services in Maywood Park. We take pride in our commitment to delivering exceptional craftsmanship that transforms your ideas into reality. With years of experience, our dedicated team brings expertise, attention to detail, and a passion for excellence to every project we undertake.
Our general contractor services encompass a wide range of commercial and public works needs, ensuring that every aspect of your project is handled with precision. From concept to completion, we work closely with you to create spaces that reflect your vision and exceed your expectations. Whether it's revitalizing your living spaces or enhancing your business environment, our skilled professionals are ready to bring your dreams to life in Maywood Park.
Contact RJ Ramos Construction and Electrical Co today to discuss your project and experience the difference of working with a team that values your aspirations.
The Benefits of Our General Contractor Services
Skilled Professionals: Our team of experts is dedicated to crafting your project with precision.
Comprehensive Solutions: Whether you need construction or electrical services, we've got you covered.
Attention to Detail: We ensure every detail is perfect, no matter the scale of the project.
Ready to turn your vision into reality? Contact RJ Ramos Construction and Electrical Co today.
Why Choose RJ Ramos Construction and Electrical Co
Choose us for:
Years of Experience: With our expertise, your project is in capable hands.
Reliable Service: Our commitment to quality means we deliver results you can trust.
Customer Satisfaction: We prioritize your needs and ensure open communication throughout the project.
All Of The General Contractor Services We Offer In Maywood Park
Your Trusted General Contractor in Maywood Park
At RJ Ramos Construction and Electrical Co, we are your trusted partner for all your general contractor needs in Maywood Park. With a focus on quality, innovation, and customer satisfaction, we bring your ideas to life with precision and dedication. Our experienced team is equipped to handle a diverse range of projects, ensuring that every detail is taken care of to perfection. Our commitment to excellence shines through in every endeavor and every project we take on. Choose our trusted general contractor services to turn your vision into reality.
Maywood Park's Commercial Construction Experts
RJ Ramos Construction and Electrical Co stands as the leading name in commercial construction expertise in Maywood Park. Our seasoned professionals understand the unique demands of commercial projects and work diligently to deliver outstanding results. With a keen eye for design and functionality, we create spaces that are both aesthetically pleasing and highly functional. Whether you're planning a new business venture or expanding your current space, our commercial construction services are tailored to meet your specific needs. Partner with the experts at RJ Ramos Construction and Electrical Co to bring your commercial aspirations to life.
All Of The Cities Where We Offer General Contractor Services
Beaverton, OR
Carver, OR
Clackamas, OR
Cornelius, OR
Damascus, OR
Durham, OR
Gladstone, OR
Maywood Park, OR
Portland, OR
Tigard, OR
About Maywood Park, OR
Maywood Park, located in the heart of the Portland metropolitan area, is a charming and tight-knit community known for its unique character and serene atmosphere. This city-within-a-city is renowned for its lush green spaces, including Maywood Park itself, a serene oasis where residents can unwind and connect with nature. The neighborhood's tree-lined streets and well-preserved architecture evoke a sense of nostalgia and community pride.
At RJ Ramos Construction and Electrical Co, we're dedicated to enhancing the beauty and functionality of Maywood Park through our general contractor services. Let us bring your visions to life and transform your living and working spaces. Contact us today to embark on your construction journey and experience the difference of working with us. Ready to make your vision a reality? Contact us now.
RJ Ramos Construction and Electrical Co
One Of The Oldest Minority General & Electrical Contractors In The Portland Area